BACKPACKING LINKS
Yosemite Explorer - Great site by someone that works in the park. Info for hikers, climbers & runners.
Trail Journals - Journals by hikers on major trails in the US.
Whiteblaze.net - A community of Appalachian Trail Enthusiasts
Terra Galleria Photography - Some great pictures from all over the world. This guy also climbs. He sell his pictures but they're worth it.
Postholer - Loaded with information on the Pacific Crest and Continental Divide Trails.
Andrew Skurka - a professional backpacker that does all the long distance trails over and over. Doing what I love, and getting sponsored!
North Country Trail Assn
.
Pacfic Northwest Trail Assn.
Ski Mountaineers Section, Angles Chapter, Sierra Club - Some great trip reports from all over, all seasons. On & Off trail. On foot or skis.
Virtual Parks - The best 360 degree panoramas I've seen
Climber.org - has an extensive list of climbing reports with pictures
jmt2k.com - personal pages on hiking the John Muir Trail
Brian Ernst photos from hiking the JMT in 2003, some of the best pictures I've seen.
Buddha-Nature Books and Maps - by Lee Dittmann who used to work at Henry Coe State park. One stop shopping for books and maps.
Gorp (The Great Outdoor Recreational Pages, great site)
The California Snow Page (The Dept. of Water Resources Automated Snow survey equipment )
Muir Trail Ranch (good place for a food drop, located about 1/2 mile off the PCT and about the half way point on the John Muir Trail, you can also buy white gas)
Vermilion Valley Resort - Another long time stop over for people on the PCT and JMT where you can pick up supplys, food drops etc, or use the internet
Pacific Crest Trail Association (THE site for the PCT and the JMT)
Yosemite National Park (general park info and wilderness info, fantastic online library of old books on the park)
Yosemite Online(a good place to find info on the park)
Yosemite National Park - the official park website
thebackpacker.com - great site on backpacking, I've gotten some real good info from this site. Gets a lot of input from readers.
Royal Gorge Cross-Country Ski Resort
SkinnySki.com - Cross country skiing trail reports in Minnesota
CCC - The picture below is an example of work done by the CCC. Whenever I run into their trail crews I make sure they know I appreciate their work.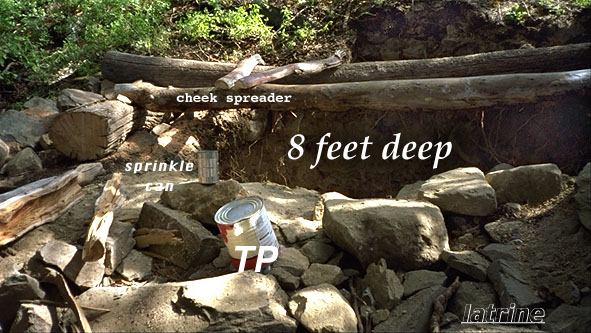 MISCELLANEOUS
The Web Ring The home of web rings of all types. If you can't find it here it probably doesn't exist.
Harris Cyclery (a good place to find info on bike repair)
Hourly/Event Stations: CHILI BAR (AMERICAN R) (river flows on the river)
Hourly/Event Stations: NORTH FORK DAM (AMERICAN R)
CDEC - California Data Exchange Center - CDEC
Earthquake Information (the USGS earthquake information page, includes a map showing earthquakes in the last two weeks)